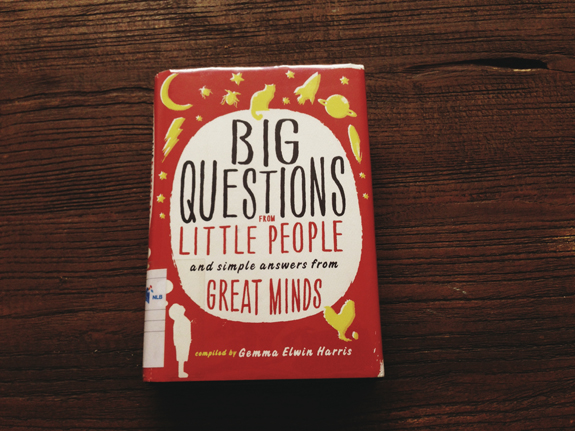 Some years ago, my daughter's class had a chance to meet with a marine scientist to find out about her research work. We didn't discuss the experience in detail, but my daughter did share something with me: Prior to the scientist's visit, the form teacher had instructed the class to think of questions, but with a caveat—no "silly questions" were allowed.
My daughter takes rules very seriously, and as it is, she's afraid enough of being less than perfect. Unfortunately we don't have a culture of questioning everything we read or hear at home and I didn't have a better strategy to suggest, so I merely enquired if the teacher had defined "silly questions" for the class. She had, and these were questions that one "should already know" the answers to, such as "What is a fish?" But I wasn't convinced that this was sufficient direction for the kids.
This incident made me wonder: How important is the ability to question? It's vital for work, according to this article:
"[For] employees to solve problems or to learn new things, they have to know what questions to ask. And we can't teach them how to ask good questions—how to think. The ability to ask the right questions is the single most important skill."
As a parent, my other concern was this: Was there a process I could follow for helping my kids develop an enquiring mind? I needed guidance, which is why I started reading up more about questions and how to encourage them. This is what I've learned and am trying to put into practice.
1. To raise critical thinkers, show that different questions are asked for different purposes, and that some questions are more powerful than others.
Questions that elicit "yes" or "no" answers are the least powerful, while questions that compel a responder to reflect usually begin with "why" or "what if." Scholastic explains this in detail with an informative article that also includes teaching and activity ideas. If you've set an assignment for a child to ask questions about a certain topic and she's drawing a blank, instead of spoonfeeding her with an example of a question, you can suggest that she begins her questions with "how," "why," or "what if."
2. Change the way you describe the world to your kids—use open-ended questions to set them thinking.
I love this blog post because it gives specific examples of common questions that we ask our kids, and demonstrates how we can reframe these questions to spark their curiosity. For instance, try asking "How did the rainbow get in the sky?" in place of "Can you see the rainbow?"
3. Questioning skills can and should be taught.
A teacher details what he's done in class to encourage his students to ask better questions here, and this includes providing honest feedback about his students' questions, and supplying sample questions or question structures to students who require more handholding.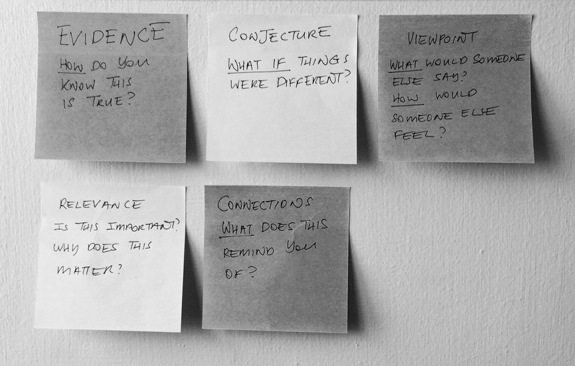 4. Build critical thinking habits from an early age.
I devoted some time to watching A Year At Mission Hill, a documentary series about a school where teachers have the freedom to design a creative curriculum and students know they're valued and respected. These critical thinking questions that I've put up for my daughter is an idea borrowed from this episode.
5. Use games to hone kids' questioning ability.
This post features five classroom activities for encouraging questions that can be adapted for the home. One activity idea is to hide something in a box and have kids ask questions in order to guess what's inside. For parents who prefer to buy a game rather than make one: We've played a card game based on the same concept; it's hilarious, it's stocked in several local toy stores, and it's called Hedbanz.
This article was written by Evelyn, content editor at KiasuParents.com. She has two children of her own and blogs at The Bottomsup Blog.
---
One easy step to subscribe to Flying Cape's weekly newsletter.  Never miss another useful blog update!